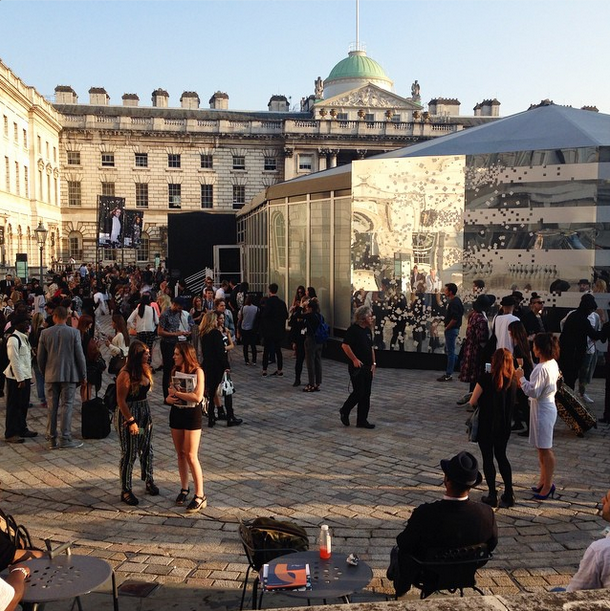 Cara D and Suki rolling from exclusive pardy to exclusive pardy, street style superstars getting papped by street style photog superstars, celeb-packed FROWs, nothing but rainbow hair as far as the eye can see and Olivia P's general effortless existence: Fashion Week as lived vicariously through Daily Mail, Vogue, Elle and Twitter looks positively majestic, but let me assure you that this view is one seen through rose-tinted glasses. Probs Miu Miu. I've had the honour of representing two different magazines at fashion week (on two separate occasions) and I am unbelievably grateful to them both for giving me the opportunity to write on their behalf. The following comments have nothing to do with either of the publications and everything to do with LFW in general. Consider me your not-so-dainty fashion advice fairy…
1. Somerset House is stomping ground of the sartorially savvy.
Those street stylin' sasspots you're seeing everywhere, chances are they aren't actually on a street. You're more likely to find them 'pon the Somerset House cobbles, hanging around, looking super swish/suave/sassy and probably/maybe/definitely hoping to get papped. I recommend wearing trainers because hurriedly dodging the hoards is no easy feat.
2. You'll meet some really great people and some really shit people.
I'm a fairly patient person and I'll give anyone the time of day (last week I spent an entire 45 minutes humouring a drunk man on the bus at 11AM in order to stop him hassling anyone else. There's passages in the bible about people like me: samaritans) but my GOD the ego tripping at LFW has me trippin'. On the other hand, you'll meet some of the worlds most wondrous human beans (I'm talking 'bout you, Maybelline and Loreal!) and they will reinstate your faith in humanity. And, in my case, give you free make-up.
3. Can't wait to pardy it up! Come at me, Proseccoma!
"Do I want to go to a party after the show? Umm it's, like, 7PM already…" I can't burn the candle at both ends. I need 8 hours sleep. A party after a 10 hour day sounds like hell on earth right now.
4. Networking? Not working.
"This is IT! This is my opportunity to network. I am gonna kick social ass and make connections with head honchos. Maybe someone will notice my genius. Hell, maybe I'll be running the joint next season!" Wrong. Well, in my experience, wrong. I can be a bit socially inept when I want to be (/all my life) so networking is not as easy as it sounds, especially so when you spend most the season travelling from show to show alone and then frantically hooking up to some rogue wi-fi to do the write-up. You're a Lone Ranger, mon frere. Own it.
5. Catwalk shows are major. Stood 5th row behind guy with the fedora? Not so much.
There are a lot of glorious and gargantuan 'fros at fashion week, an amazing array of headwear and even a few living dolls with large rubber heads; so if you want to catch a proper glimpse of the catwalks, I suggest using the 'zoom' function on style.com.
6. Backstage? You're in the way.
Being backstage is a privilege but you are, unquestionably, in the way. Nobody will tell you you're in the way because they are literally that busy, but in the way you most certainly are. Applying make-up, readjusting feathers, sorting out side-boobs and clipping toenails (true story); behind-the-scenes is madness so look like you've got a purpose and, for the love of god, don't get in the way of a model practicing her walk.
7. Got an invite? Chances are you still might not get in. 
Some door situations at fashion week are soul-destroying but none other than not being allowed in to a show you have a solid invite to, due to it being 'full to capacity'. Especially when you just saw Olivia Palermo hot-foot it inside so you know that it's gonna be epic. My advice is to drag your weary feet to the nearest MacDonald's and spend your newly-found freedom with the 20 souls that never let you down: those golden nuggets.
8. The most important advice of all: HAVE FUN exclamation mark x 3
As intimidating and sweaty as the whole shebang can be, just enjoy yourself. Train delayed and scared the show has started? It probably hasn't. I've never been to a show that starts on time. Worried about what you're wearing? Don't. If you feel comfortable in your threads then, by default, you look amazing. CONFIDENCE IS THE GREATEST ACCESSORY OF ALL, MON AMI!
9. The second most important advice of all: pack your bag wisely.
If you're doing write-ups you're gonna need an iPad or a laptop. Equally as important are the following: your tickets and e-vites, deodorant, perfume, headphones, chargers, lipstick, water (unless you like coconut water in which case you'll be in heaven – fashion folk just can't get enough of that Vita Coco…) and, in my case, an entire change of clothing incase the sweat takes over and I need to switch my shit up.
10. Haven't really got a 10th piece of advice. Just seems like a good number to end on.
Sayonara, Somerset House! You've been emotional and sweaty. So, so sweaty.