I recently stumbled upon photos of myself on another blog, under an article that discussed fast fashion and the saturation of certain trends amongst the blogosphere. And it's totally true: the blogosphere is chockablock with the same frocks; you just have to do a sweep of your favourite fashun blawgs and you'll find sartorial similarities in every one. Spend too long scrolling through Tumblr and you'll inevitably be diagnosed with a case of Blog Fog: a haziness that sets in upon witnessing the seventh photo featuring a pair of perfectly distressed, ripped jeans, offset with a classic Chanel bag and some Tony Bianco lace-up heels. The popular garms I was guilty of gleefully donning? My beloved Topshop Ghillie Heels* (as pictured below) and my Zara Fringed Heels. Let me be clear: it wasn't a negative article – more of a discussion point – and, as well as being pretty chuffed that I made the cut, I thought the article posed a really interesting question.
I, like many of y'all, pride myself on having my own 'sense of style'; whatever the hell that means. I prefer to think that I'm not trend-led, although that's not wholly true: unless you have access to high-end designers (and thus can get your mitts on some one-of-a-kind, erm, mitts) or are able to fashion yourself a pair of culottes, you have no real choice but to be partially trend-led. What's on offer is what's on offer and, more often than not, you're going to like at least *some* of it. Trends are so concentrated, attainable and in-your-fucking-face that they act like a sort of dud-induced double-edged sword: 'I will scream if I see another pair of fringed fucking shorts' vs 'Huh, I hadn't considered flares but I reckon I could rock the fuck out of them'. When I started Uni in 2010, I was desperately hunting down a pair of completely lace, high-waisted bell-bottoms; I used their notable absence in my life as justification for avoiding every seminar and lecture. I needed them. I searched e.v.e.r.y.w.h.e.r.e, but to no avail. At the time, my only hope of salvation was Etsy (which says a lot about how fast fast-fashion has become in the last few years, and says even more about how instantaneously and thoroughly the high-street can churn out trends), but even Etsy failed me. Today, I can't move for seeing a pair of lace bell-bottoms. I'm both livid at their lateness to the party and appreciative that they at least turned up. (sidenote: I did, eventually, find a pair. A really bodacious pair, at that. Proof that, if you set life aside for long enough, you *will* get those pants) The problem with the potent element of 2k15's trend turn-out is that it's inescapable and, even if you had absolutely zero intention of spending your summer looking like Stevie Nicks' less cool lovechild, that's exactly how your summer panned out; not a terrible thing, mind you, but not exactly a solid case for the existence of the elusive 'sense of style'. The heavy replication of cuts and cloths from a bygone era also kind of detracts from their original awesomeness, but that's a whole other matter.
Ultimately, it's inevitable: our styles and tastes are going to overlap and, on a platform as abounding as the blogosphere, it's all the more noticeable. We're all willing participants in a technicolor, fabric-focused, epoch-encompassing six degrees of style separation. The fashion train is speeding towards us with never-before-seen aplomb and we can do little to encumber it. We can't dissuade and de-suede. We can't ensnare the flare. We can't even stop the crop. All we can do is hop on board, sit our 70's-inspired, patterned asses down on our favourite seat and enjoy the ride.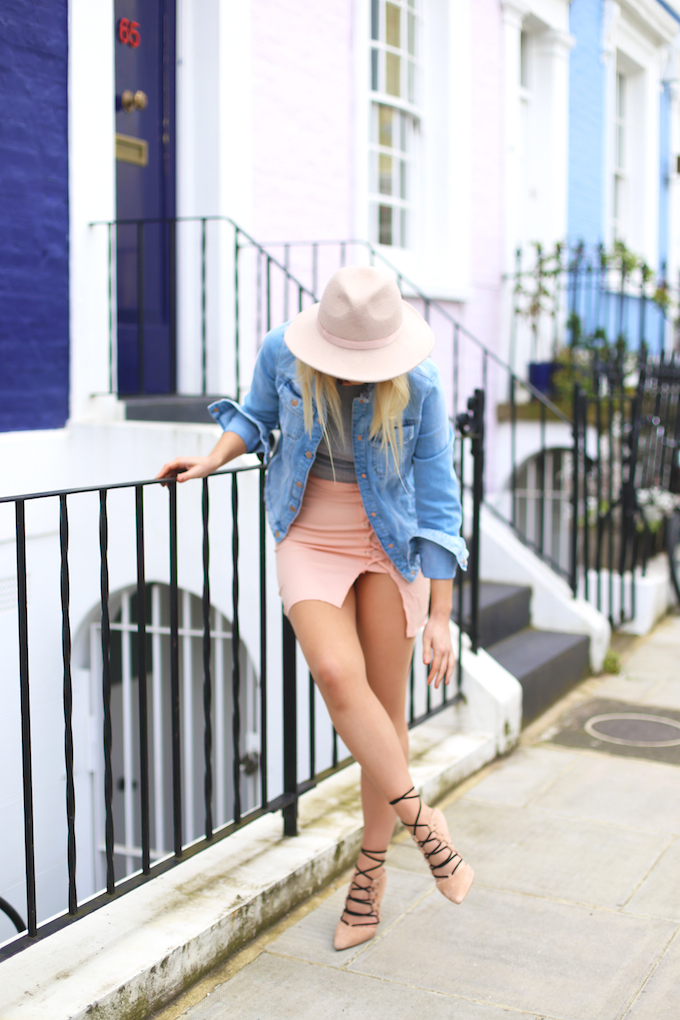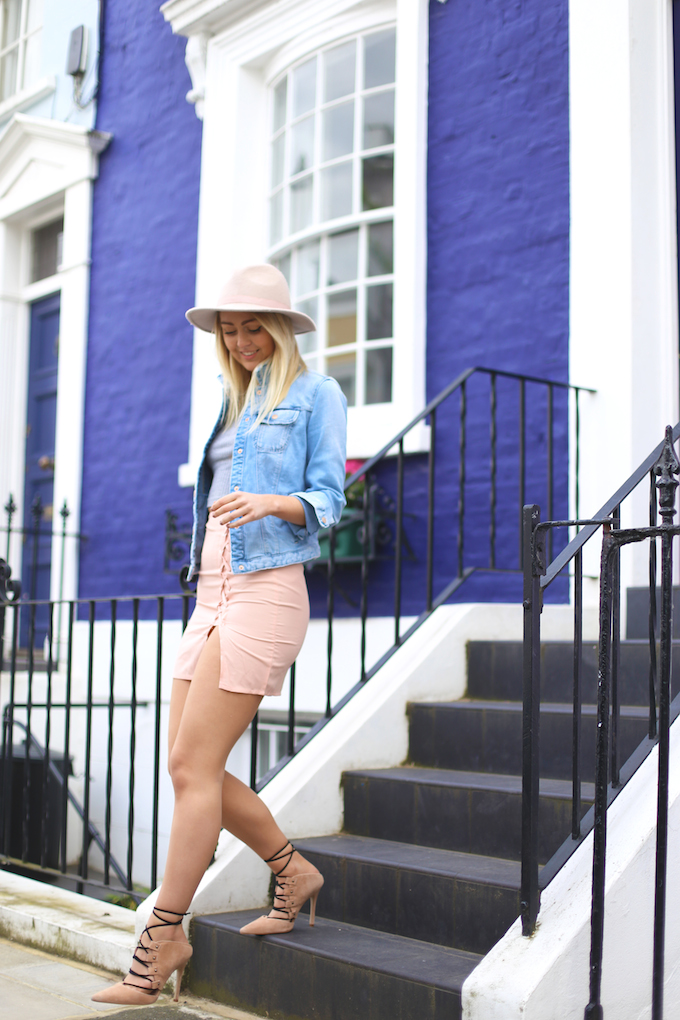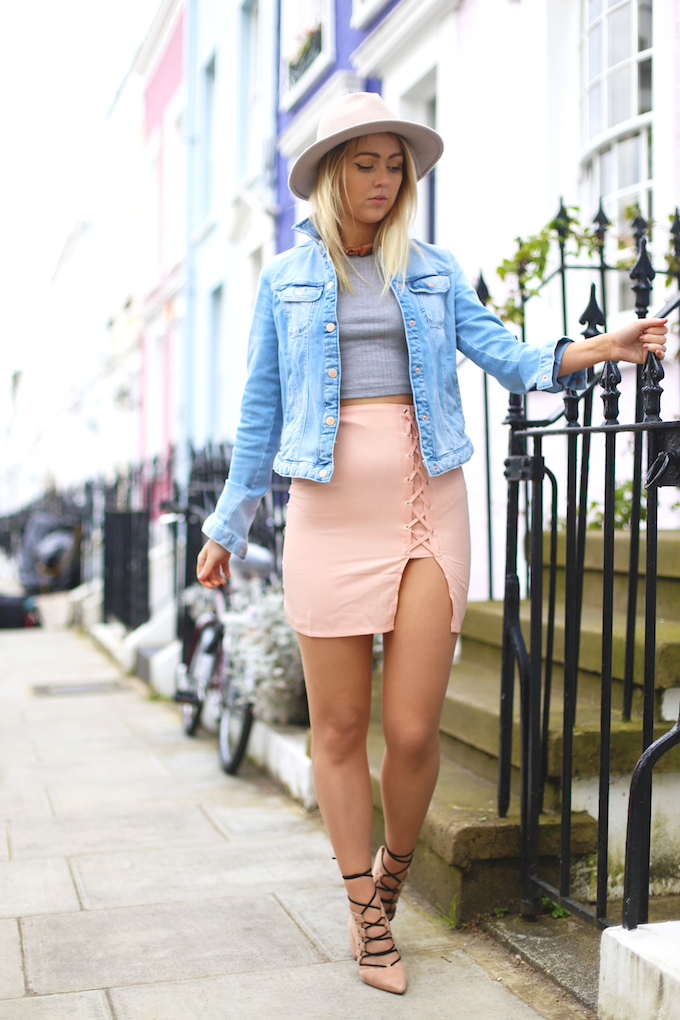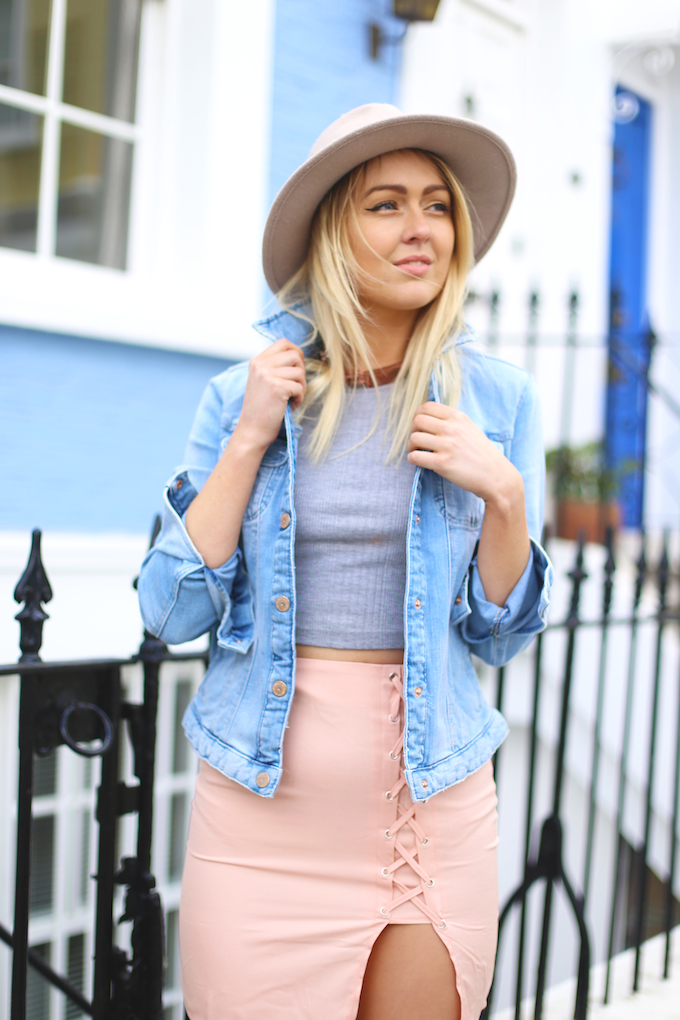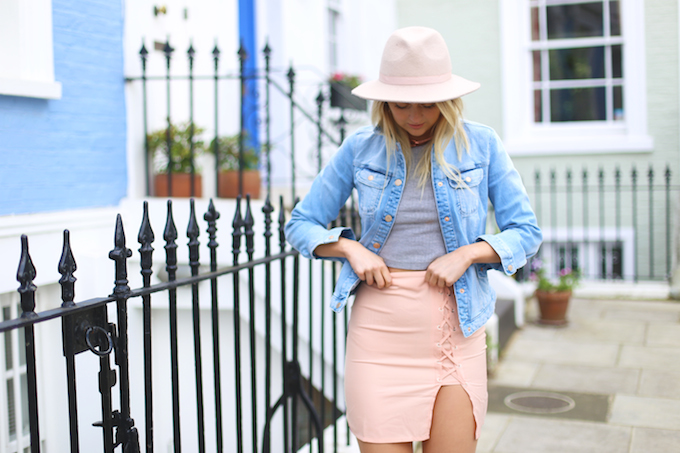 ASOS Fedora / Zara Denim Jacket / Missguided Skirt / Topshop Ghillie Heels