Odd title, sure. Intended to inform that this is both a think-piece and outfit post; the whole kit-kaboodle, baybeh!
I momentarily considered not publishing these photos, 'cause my mind was all "Holy fuck, Daisy, look at your paunch! These trousers looked so much more flattering in the confines of my dimly-lit house. Oh Jesus, you can see the rippling of my cellulite, too. Well fan-fucking-tastic. And – yup – that's definitely my thong on show. Reminder to oneself: camel is not your colour. Kamel is Kim K's colour. Keep it that way." and then my mind was all "FUCK THAT SHIT, Y'ALL! These are your legs – cellulite and all. Cellulite which, may I add, is probably a result of all that chocolate consumption. Remember how happy you were 'bout eating all that salted caramel galaxy? Let those gentle ripples serve as a steadfast reminder of all the times you have gleefully guzzled down chocolate and tea. And that paunch is also, probably, a by-product of that feasting, too. Happy times, all round. And as for the thong, well, you could've gone commando but you'd have had a camel in the shot and, lest we forget what we've learnt today, you ain't so keen on camel."
Such is the mindset when trawling through hundreds of photos of yourself: pleasantly surprised at the complimentary angle vs horrified by – what you convince yourself must be – the reality. I'm not a model, nor am I a sportsman; my body isn't honed and toned and trained to serve a particular purpose. My body is a very useful vessel within which I carry my soul (and internal organs, obvz), and what I've learnt since starting a blog is that it's my soul that needs to be nurtured, and not the demonic little voice in the back of my mind that points out how obtrusive and vulgar my paunch is. The wonderful (and polite) amongst you would hurriedly say "Daisy, don't be fucking ridiculous, you look absolutely *fiiiine*" and there's zero doubt in my mind that you'd mean every word. So, why then do we not apply that same kindness to ourselves? Why are we so quick to criticise where others compliment?
I rush to gush over the unquestionable beauty of my pals, even in the face of their dismissive horror of their – well – face, because I just don't *see* what they see. I'm guessing the same can probably be said for how you conduct yourself with pals, too. But the fact of the matter is that there's a teeny tiny voice in the back of our minds that thrives off of our own self-destructive negativity, and that little voice can spread far and wide. Similarly, the same treacherous voice can work in reverse; spreading toxicity in the direction of others in order to appease our own narcissism. Unsure if you've ever fallen victim to the poisonous little scallywag? Ask yourself whether you've ever-so-slightly revelled in an unfortunate photo of an ex's girlfriend, or maybe you've felt bizarre contentment once digging two-hundred photos deep through an old friends tagged photos and establishing that she's 'lost it' (whatever the fuck 'it' is), or maybe you've had a chinwag with friends and one of you has dropped the weight-bomb: "Is it just me orrrrr has she got a *bit* bigger?". It's gross, and I shudder every time I ever recall myself acting so horrifically, all in order to boost my own esteem. The fact of the matter is that we shouldn't need to knock others down in order to build ourselves up; it's not cool, it makes you look like a douche and it serves no purpose whatsoever. It's true what they say: 'beauty is only skin deep', but I think we need to redefine beauty altogether. Beauty needn't be skin deep – beauty can be the glorious culmination of kindness and goodness and quality of character and just generally being a fucking ace individual. And I think it's high-time we start focusing on harnessing and building our beauty. Convincing yourself that Joanne Bloggs is a monster does nothing but prove that there is, most definitely, a monster in the room; and that monster, my precious, is you. Be kind to others, be kind to yourself and sprinkle positivity everywhere you tread. Sprinkle that shit so damn hard. Even in the face of your enemies; that'll really piss 'em off.
"If you have good thoughts they will shine out of your face like sunbeams and you will always look lovely."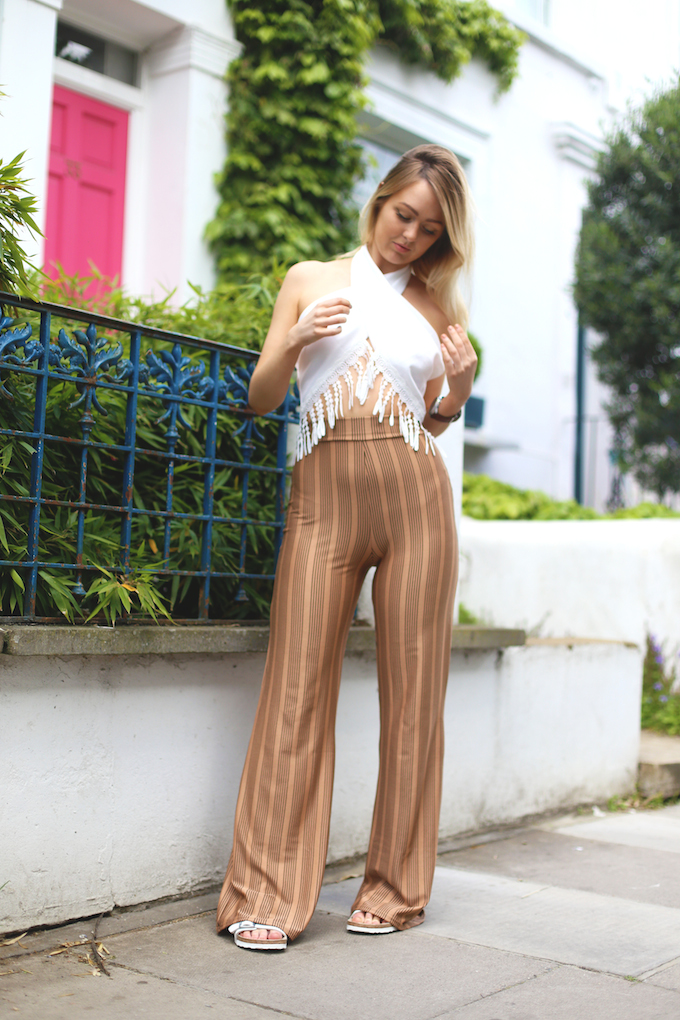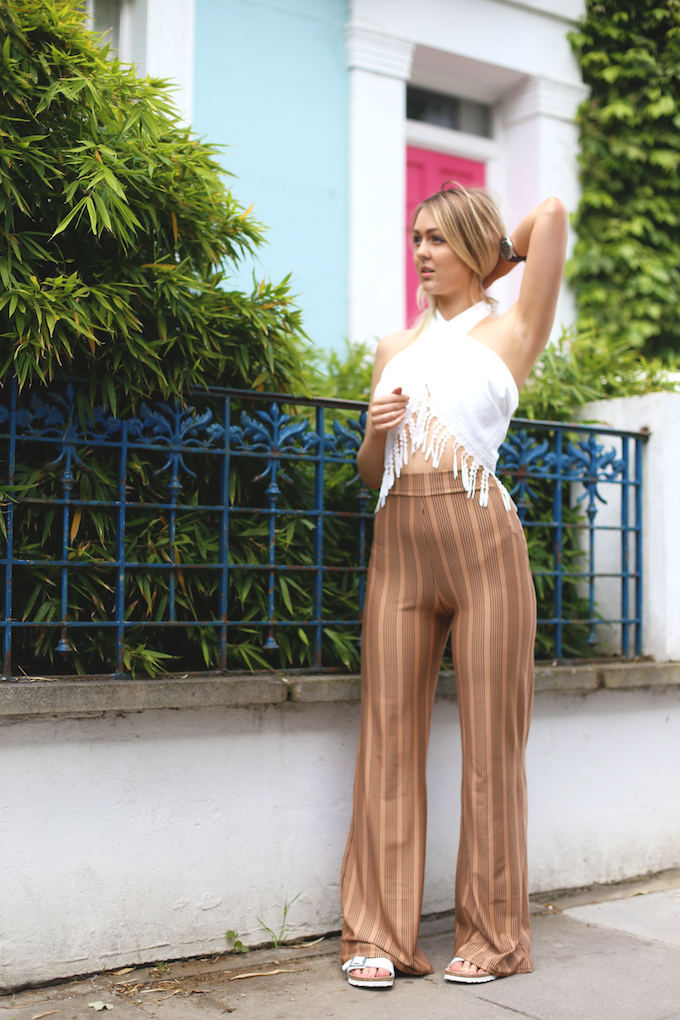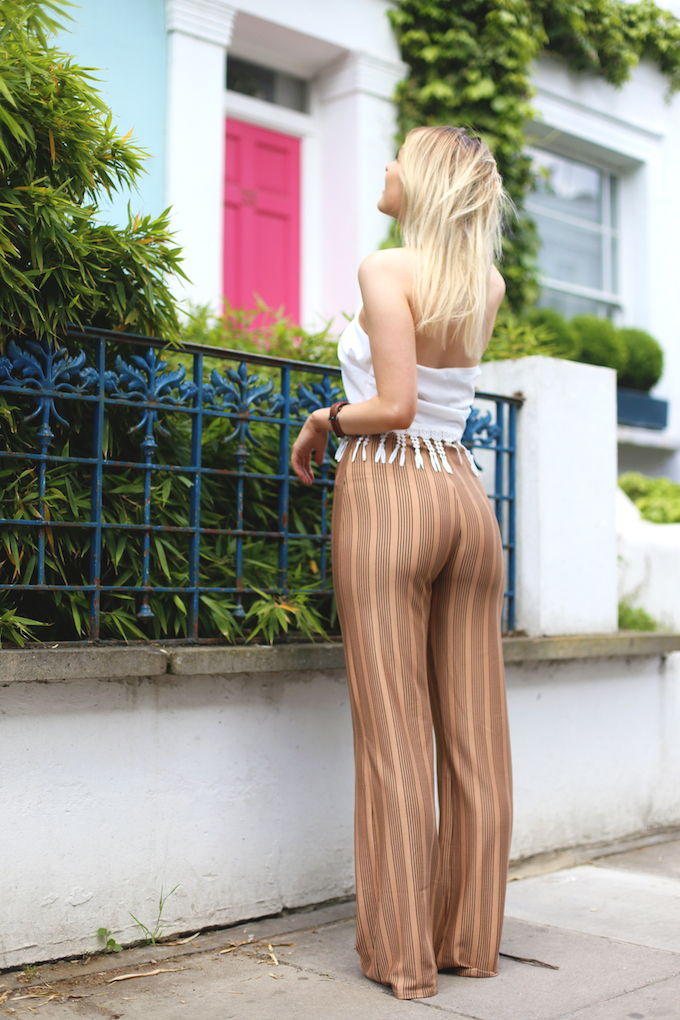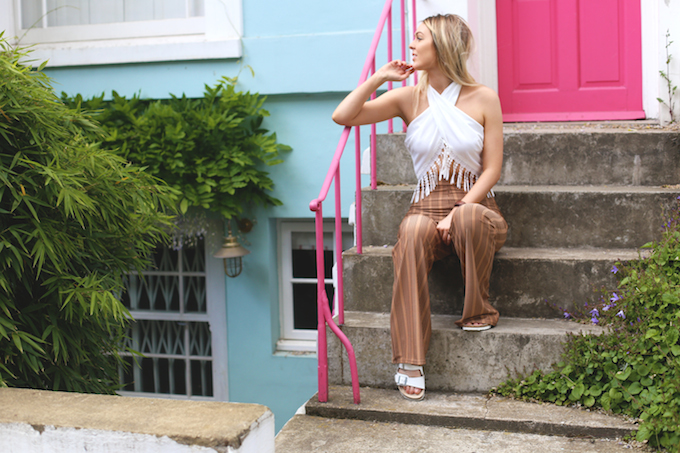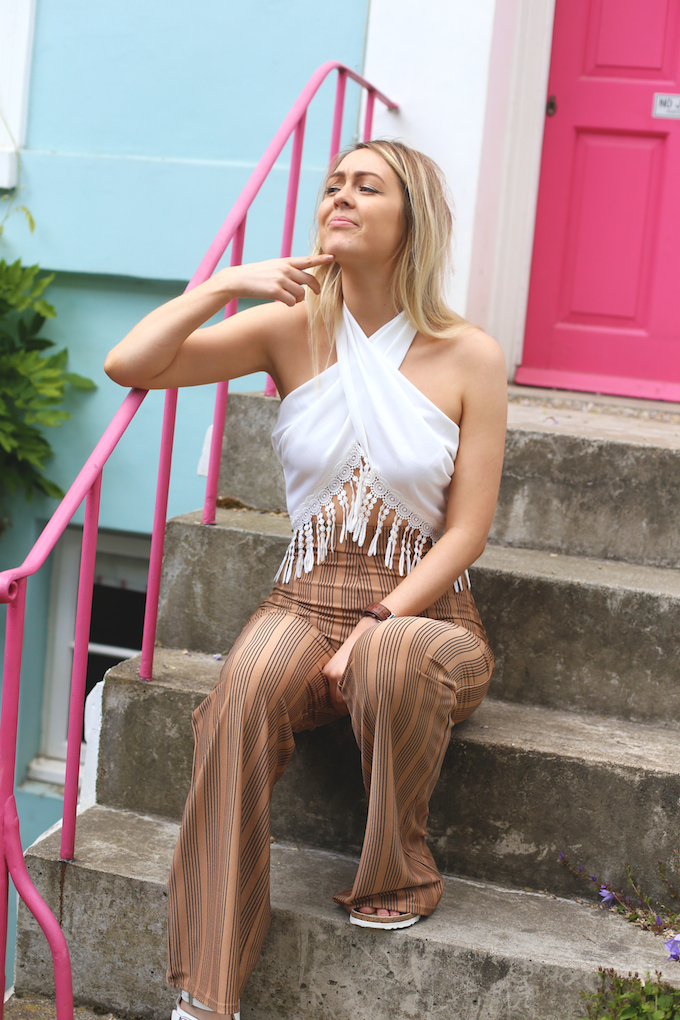 Missguided Crochet Halterneck / Missguided Camel Flares / Arizona Birkenstocks