The worst has happened: my ex has removed my profile from his Netflix account.
I feel sad. Really sad. Is this the definitive end? Is this the moment at which we part ways eternally, only familiar with each others fragmented social media personalities? Will I begin to mindlessly wish him a short and sweet 'Happy Bday!' as I do with hordes of others I've lost contact with, not comfortable enough to proffer a funny nickname or even a 'hope to see you soon!'? God, I hope we never reach 'HP BD' territory. Those people are the worst. Do all these feelings render me a completely illogical, irrational and insecure loon? WHY AM I SO SAD AND PISSED ABOUT THIS?!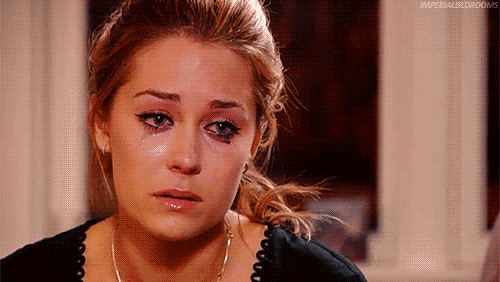 Now to put my irrationality into perspective, I present you with the following facts:
(1) It's been a year since we broke up
(2) I'm now back with my ex-ex, aka the dude from the failed relationship before this failed relationship
(3) My ex isn't a huge fan of my ex-ex
(4) I recently wrote an article about rimming, referring to events with my current beau, but a friend of my ex didn't realise we'd split and tagged him in the article along with the following words: "taste nice?". Need I remind you I was literately discussing the ex-ex literally licking my arsehole. Any hopes I'd had of him never seeing the piece had been dashed within four precious minutes.
Agreeably, all these factors point to Netflix profile abomination. But still, still I find myself gutted and disproportionately pissed. Look up 'unreasonable' in the dictionary and there you'll find my face.
My ex has been nothing but a gent throughout both our relationship and our break-up – I'd like to think that we're still firm friends – and yet I can't shift the feeling that this is just a smidge personal. Believe me when I say that this kinda-sorta-love-triangle has been far from a walk in the park; there's nothing more awkward than attempting to appease two men you love very much, who dislike each other very much, at the very same time.
For all intents and purposes, the ex and I had a very amicable break-up. We'd even delayed our inevitable denouement for a good few months because the couples in my family were dropping like flies (separating, guys, not dying) and we were the last remaining pillar of hope. My mum and step-dad sobbed when I told them the news, and I called my ex immediately to laugh about it all: "Look at us, escaping the break-up scathe free! And yet our parents are positively DEVASTATED! Hardy hardy ha! Look at our hearty unconventionality!"
In summary: we basically consciously uncoupled before it had even crossed Gwyneth's Goop-laden mind. We were the golden couple. In our twosome prime we'd spoke of moving in together and even bagsied a corner sofa my mum was getting rid of, for use in our future apartment. That corner sofa was sat in his garage for months, a buttery red leather representation of all the things we thought were in store for us. He text me recently to ask if it was okay if he put it in the house he was renting out: "OF COURSE IT'S OKAY! That sofa is yours now, mon ami." Similarly, I'm now the owner of a ginormous TV that was left at mine and was originally his. See? All very amicable. Which is why this latest development feels like so wounding. I mean I get it, but it still makes me… sad? Heavy-hearted? Scared? Is this the end of our friendship? I'll have to bell him and ask. I'll also have to send him over this article to 'OK' before I publish it anywhere, because I don't want to give him further reason to remove me from another social medium.
"Just a shot in the dark, Dais, but maybe he removed you simply because you're not together? Like, how long did you expect to be using his Netflix for?" Fair enough, but what was the turning point? Let's set aside the fact that I was in the middle of a series (The Office US, if you must know), did he need to remove me from his account? Arguably, no. Did he replace my profile with someone else's? Negative. Are we pals? Affirmative. So I can only assume that this shit is personal or, at least, it feels personal.
During a separation you obsessively look for meaning in every gesture, every word and every action, and maybe that's what I'm doing now. I guess this predicament is reflective of what a break-up comprises of in the 21st century. We're so connected at all times that we become spectators in the subtle, or not-so-subtle (as is often the case), breaking off of said connections: 'follow' 'unfollow' 'friend' 'unfriend' or the dreaded accidental 'like' that is retracted in a heartbeat. We're so aware of the new-age nuances that shape us and our relationships, that we're even more aware of the lack of them. We pick apart what every forthright click and social media silence means. We watch as we consciously and knowingly scroll further and further away from each other until our Mutual Friends are '0' and we're on the other side of the fence, peering through at a profile that is shut-off to us. 'Known and loved personnel only past this point' emblazoned across the screen. It always hits harder than you thought it would.
What do I do now? Firstly, sign up for Netflix. Secondly, I'll drop the ex a call and see how he's hanging, what he's up to and dutifully explain all my feels before presenting him with this here writing. Maybe something as seemingly harmless as a profile removal does mark the end. Maybe the ex is relinquishing control and setting our social media standard. Maybe now we move into a different phase of friendship; unattached and free from awkward cyber-overlapping. Or maybe I'm fucking bananas and this means nothing at all.
I didn't sign up for this shit. *unsubscribe*
* * *
ph. from Google