My boyfriend broke my nose. Accidentally. And before you ask: it wasn't a sex game gone wildly wrong. I went in for a hug and, supposedly, the sheer rarity of me showing affection caused him to shield himself in defence; in the process, I got a swift and serious elbow to the face. The sound of bone cracking was as crisp and comical as it is in the cartoons, although we both failed to see the funny side of my newly lopsidedness at the time.
him: "OMG DAISY ARE YOU OKAY?"
me: "WHAT DO YOU MEAN 'AM I OKAY?'?!? WHAT'S HAPPENED? WHY ARE YOU MAKING ME PANIC?!"
him: "OMG DAISY I'M SO SORRY. YOUR NOSE! WE SHOULD GO TO A&E!"
me: "A&E?! FUCK A&E! WHY WOULD YOU ELBOW ME, YOU BASTARD!"
*looks in mirror to discover nose has moved*
me: "MY NOSE! MY PRECIOUS BUTTON NOSE! THAT'S THE ONLY PART OF MY FACE I LIKED, YOU JACKASS.
GET IN THE FUCKING CAR, YOU'RE TAKING ME TO THE HOSPITAL."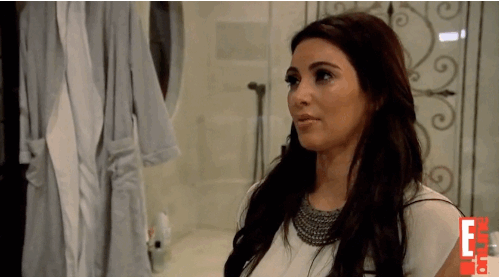 I'd spent all week looking forward to his homecoming (he lives elsewhere and drives home on the weekends) and approximately four hours after our reunion, I was sick to death of him; and his fully-functioning, proportionate, in-tact nose. An awkward A&E trip – "And how did this happen, Miss Keens?" "Elbow to the face." "By who?" "My boyfriend… IT WAS AN ACCIDENT" *raised eyebrows* -, two and a half hours spent in the waiting room being lectured about the insignificance of my injury by a man with a poorly penis, and an appointment for a nose job later: me, the perpetrator and my concaved shnoz were back in the scene of the crime; my bed.
'What's this all about?', I hear you mutter. Well it wasn't until this eventful escapade that I realised how OK I was with my face, prior to the battered beak. I've lived my life, as so many of us do, feeling begrudgingly towards the elements that comprise to form my boat-race that I hadn't actually considered how I'd feel if they changed. Turns out, I was pretty devo. For years I've stared gormlessly at my reflection in the mirror and pictured bigger lips, brighter eyes, a cuter nose, fiercer eyebrows and visible cheekbones (can't contour to save ma lyf) and yet, staring horrified into that same mirror at my bent-ass nose, I realised how wasteful all that wishful thinking was. Don't get me wrong, I've spent hours imagining how fab it must feel to have the flawless features of Bey, Gigi, Kendall, Candice, RiRi, Rosie H-W, Cara, Daphne, Karrueche, Olivia P, Chloe from TOWIE – I could go on but I'm boring myself – but that is, truly, just wishful and wasteful thinking; and we often let it consume us. We're constantly bombarded with imagery of 'beautiful people' – or, at least, the standard of beauty prescribed upon us by all means of outlets (media, societal, cultural) as soon as we're old enough to comprehend what beautiful means in a physical sense – that we often forget to appreciate that their beauty doesn't define our own. Our faces act like our armour, and everyday they're prepped and primed until we feel they're ready to take on the world and kick some ass. My armour is temporarily chinked, and I'm a bit sad about it; disproportionately so, some might say. But at the same time, this elbow to the face has knocked some well-needed perspective into my life. WHAT'S THE FUCKING POINT IN LONGING FOR SOMETHING THAT'S UNATTAINABLE?! What is the point? Why do we do it? And I don't mean 'unattainable' in the sense that it's at a height of physical majesty that is out of our reach, I mean 'unattainable' in the sense that it's literally, actually, really fucking unattainable. We're given what we're given and if we can't find happiness within it then we're, essentially, fucked. We can either lead a miserable existence thinking that our 'beauty' determines our worth or we could accept that Yes, I am beautiful and No, I am not going to spend my life thinking any less of myself because I haven't got the genes of a Kardashian. It's our own definition of beauty that confines us and limits our potential to love ourselves (I sound like a self help book but YOU GET ME). I'm all for appreciating others – there's nothing wrong or detrimental in complimenting and revelling in the loveliness of someone else – but not at the expense of our own self-worth. I'm beautiful. You're beautiful. WE'RE ALL BEAUTIFUL if we tell ourselves we are and, most importantly, believe it.
You know what springs to mind talking about this? #goals. It's all I ever see, everywhere: and that could mean that 1. I'm following a certain calibre of people or 2. we've become obsessed with being anything and anyone but ourselves (I reckon it's a mixture of the two). What is #goals?! Why does it exist? How about celebrating our own gloriousness? #owngoals. Did I just invent a hashtag? I THINK I DID.
Now I'm not saying that I think this broken nose was worth it. No, no, no – that would be a ludicrous conclusion to arrive at. And there's no chance I'm going to be thanking the boyf for his role in my spiritual awakening anytime soon – his actions have led to me having an unintentional nose job, after all, and I always thought my first surgery would be boob related* – but I don't want this dilapidated honk to be in vain (that pun works on so many levels). If you have a peek in the mirror today then please, on behalf of broken noses everywhere, recognise and realise how bo-fucking-dacious you are, just as you are. 'Cause you are beautiful, and deep down you nose it.
*As of a few years ago, I decided a boob job just wasn't for me. I am now at one with my bee stings; they allow me to go bra-less or, indeed, decorate them in the most intricate, lacy underwear known to mankind. No support system necessary. God bless you, bee stings.