Disclaimer: This isn't intended to evoke sadness or worry. I feel as though depression is as an important topic to discuss, considering the overwhelming stats (and considering that I readily discuss clothes, which are trivial in comparison): 1 in 4 people will experience a mental health problem each year (mind.org) and major depression is the 'number one psychological disorder in the Western world' (clinical-depression). I hope that by piping up, I can help in some small way to remove the stigma from mental illness. You might think that a fashion blog isn't the place for a frank discussion on depression, but our lives aren't all we make them out to be on social media and mine certainly isn't as glamorous and refined as this 'ere blog. My little corner of t'internet is my space to say and do as I please, and if I can help someone in the process then that's blimmin' fan-fucking-tastic.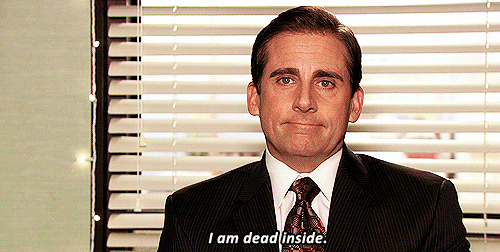 I'm depressed. No, but really. Applicable Michael Scott gif aside (tryna lighten the mood – is it working?): I, like millions of other, am suffering with depression. I've hit that big ol' bastard of a hypothetical brick wall and I'm plagued with constant, intense and prolonged feelings of sadness, inadequacy and hopelessness. And then some. The problem is, saying 'I'm depressed' doesn't seem to pack a punch anymore, case en pointe: "Ugh, I'm, like, so depressed today"; "Her travel photos are gonna depress the hell outta me"; "Jeez, this day is depressing as hell." These are all perfectly legitimate uses and variations of how we apply the D-word – aimlessly, semi-meaningfully, harmlessly – and, as humans, we do the same with an entire arsenal of adjectives. I readily say that something is 'divine' or that I am 'ecstatic' when in actuality, according to their definitions, I clearly haven't appropriated the right response to reflect my true feelings; it's just how we roll and it's totally fine. But what do we do when one D-word is representative of both a description and a disorder? What happens when that one haphazardly-used word starts meaning more to you? How do you go about explaining that you are, categorically, depressed?
This is a problem I was trying to theoretically navigate before my name popped up on the doctors patient board.
Doc: "So, Daisy, what seems to be the problem?"
Me: "Umm, well, this sounds kinda futile just saying it. I'm not really sure how to word it. I think I'm depressed."
(Why do we word things like that when we're in the presence of a doctor? I don't think I'm depressed, I know I'm depressed. Similarly I don't think there's a problem with my back, there is a problem with my back – I just need you to tell me what exactly that problem is. We perform this unnecessary dance of doctoral etiquette, proffering the intelligence and diagnosis skills upon the professional, despite knowing full well that, at the very least, the pain is in our back. That much we know to be true. That much we should be sure of. Anyhow…)
Doc: "And why do you think that?"
Jesus, I wasn't expecting that question. What the fuck was I expecting? In all my panic over using the D-word, I completely forgot to imagine what the rest of the conversation may have in store.
Me: "Umm. Why do I think I'm depressed? Golly. I guess I'm really, constantly, perpetually sad."
* eyes start watering, snot starts pouring, face rapidly begins to resemble leaking tomato *
Here's what I should've said:
"The prolonged feelings of sadness, maybe? I cry, like, minimum of five times a day. I mean, I howl. Not enough for anyone to hear, mind you, because that would draw attention to me and My Sadness, and me and My Sadness are not ready for familial attention just yet. Me and My Sadness sometimes drag ourselves off the bed and onto the floor where we weep together, head in hands, chest getting tighter with every despair-ridden inhalation, for twenty minutes or so; each and every droplet as hopeless and soul-destroying as the next. Sometimes me and My Sadness just shut down altogether and my body acts like nothing but a vessel, silently carrying me and My Sadness. Our friend Hopelessness usually hops on for the ride; he's a bit of a free-loader, we don't like him all that much. Me and My Sadness sometimes think about what would happen if everything were to come to an end. There are other times when me and My Sadness catch a glimpse of what we've become in the mirror and we, predictably, weep some more. The sight of me and My Sadness weeping makes the whole thing sadder, although this usually happens in the bathroom so at least me and My Sadness know we can get cleaned up before anyone accuses us of looking like we've leaked from the eyes; every cloud! To conclude, I guess I think I'm depressed because I feel really fucking depressed."
But I didn't say that and, to be honest, I'm not sure it would've made a blind bit of difference.
Doc: "And why is that, Daisy? Do you have reason to be depressed?"
Me: "Reason? Like, a death? No, no-one has died."
Doc: "How long have you felt this way for?"
Me: "It's got progressively worse over, about, two to three months."
Doc: "Has anything happened to you in recent months?"
Me: "Nup, nothing that isn't standard. I'm kind of in the midst of trying to become a proper, bone-fide, paid writer and I'm looking for part-time work on the side to get some cash. It is what it is."
Doc: "Hmmm. Okay. Do you have a boyfriend?"
Me: "I do. He's nice." What I should've said: "He's a reformed scallywag but he means well now."
Doc: "So you say you're a writer. That's a creative field. A field in which you sometimes have to throw your entire self and your emotions into your work. Would you agree?"
Me: "I guess so? I don't know if I'd say that my inclination to write means that I have a predisposition to depression." I did know that Doc meant well, though. Much like the pain in my back: that much I did know.
Doc: "And what are you expecting from talking to me?"
Me: "Umm. Again, I don't really know. I just kept on reading things about how it's important to tell someone and so far I've only managed to tell my boyfriend and, although my entire family thinks he's a doctor, he's actually a brain scientist and he can't actually help me, medically speaking. Although his title does suggest that he could. He can't." It's at this point that my mind wanders and I begin to imagine my boyf dedicating his life to effectively treating the illness, like Jake Gyllenhaal does for Anne Hathaway in Love & Other Drugs. I wonder. Nice thought. "… I just thought I should tell a professional."
Doc: "Okay, Daisy. Can you fill in this questionnaire for me – it's to determine how severely depressed you are – and I'm going to prescribe you a months-worth of Prozac. Depression is linked to the serotonin levels in the brain and sometimes, if you've run a little dry, you need a top up and that's essentially what the pills will do. You can also try counselling. If you want to try the Prozac then do and come see me in a month to monitor your progress."
And that was that. Me, My Sadness, an abundance of snot and a sense of relief dragged ourselves out of the doctors room and towards the bus stop. It was raining, it was grey and it was miserable, and I thought of the one and only thing that we all remember from English class: pathetic fallacy. Now that I'm armed with help and options, I intend to follow the advice of my darling soulmate, Smee, and keep a day-to-day diary of my own personal odyssey. I shall call it 'The Prozac Diaries'. Or, should I opt for the med-free route, 'Daisy's Depression Diary' (I am an astronomic advocate of alliteration). Or 'How I Got Rid of the D'. I feel as though the latter title would be profitable if my diary ever got into the hands of a publishing house; a lot of laydeez would mistakenly buy it, hoping it would teach them how to finally exterminate lecherous ex's. I'll have to think about it.
Either way, watch this space.